VISION CHALLENGES
There are several conditions that can affect the vision of individuals with Angelman Syndrome. Cortical/Cerebral Vision Impairment, and Strabismus are two disorders that are seen in the AS population. Each requires specific accommodations for access to education and AAC. Additionally, individuals with Angelman Syndrome may present with certain vision differences such as frequently using peripheral vision or a difficulty sustaining visual attention. These differences, while not associated with specific visual impairments, should be recognized and accommodations provided, if needed.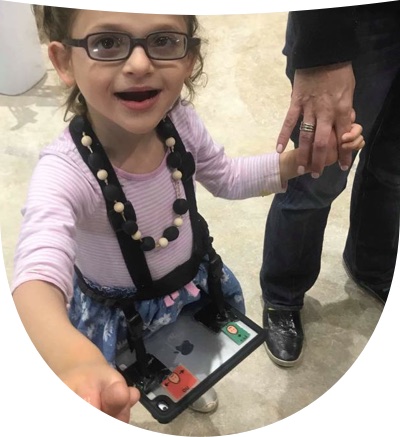 CEREBRAL/cortical VISION IMPAIRMENT (CVI)
CVI is a neurological condition that impacts the visual part of the brain. A person with CVI often has healthy eyes but difficulty processing visual information. Characteristics of CVI include preferences for certain colors, familiar items and environments, and items that are closer.
Those with CVI may engage in light gazing behaviors and have a need for movement, uncluttered or simplified visual environments and for items to be in a particular visual field. Often times individuals with CVI have delayed visual latency and decreased or absent visual reflexes. Difficulty coordinating vision and hearing or vision and motor movements often occur in CVI resulting in, for example, a tendency to be unable to look at and reach for an item at the same time. Over time and through proper interventions like vision therapy and modifying environments, people with CVI can improve their functional vision.
STRABISMUS
Strabismus is a disorder, caused by neuromuscular difficulty, in which the eyes are misaligned and do not fixate on the same point simultaneously. Often one eye focuses on an object of interest while the other eye wanders outward or inward. Strabismus can result in double vision or difficulty with depth perception. It can be improved through therapy, eyeglasses and sometimes surgery.
Vision challenges should not serve as a deterrent for educational intervention, including literacy, or introduction and use of AAC. A teacher of the visually impaired, special educator and speech therapist can help modify educational materials, home and school environments and Augmentative and Alternative Communication(AAC) systems to meet the needs of an individual with vision impairment.